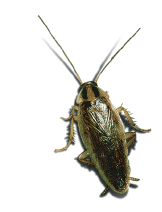 Thought for the Day

Roaches have been around for a long time.

Not the exact same roaches.

Children of roaches.

And those roaches' children.

Still recognizable.

For 280 million years.

Are your names like that?

Is your

name

fun

easy-to-remember

relevant?

Waiting for use:

Elvys.com for DA KING

WorldWireThree.com for Wireless

TruckedUp.com for Delivery

OneBigRoach.com is about

names and advertising.