HelpMeDebbie.com is your route to me,

Debbie Hall, your computer assistant.

My services are reasonably-priced and I come to your computer -- no need to pack and mail or drive your computer for service!

I can help with a range of common computer-related needs.

I am on time, competent and efficient, and if I can't do what

you need done, I will try to recommend someone who can.

Call me if you know what needs to be fixed, or if you just

can't get it to work. I love trying to figure things out!

Call me, Debbie Hall, at 336-260-3179

I will come to you to work on your computer

at your home or office

Monday through Friday -- even in the evening.

And ask me about my rates for special weekend service.

I use a cell phone, so I am not listed in the telephone directory, and I keep prices down by not lisiting in the Yellow Pages,

so I made my website name easy to remember --

HelpMeDebbie.com - or even HelpMeDebby.com

When you need my telephone number, just visit this webpage!

Currently I can come to most addresses in the Piedmont and Triangle areas of North Carolina.

To find other good businesses and associates that will work for you,

If you are a business owner, please feel free to come to our meetings

and see if you would like to join

the best and busiest business group in Alamance County!

Repairs

Got a sick or slow computer?

Virus software installation and scans.

Hard drives replaced or added.

Boards installed, new computers built.

Data storage on CD available.

Tutoring/Training

Customized for your individual and/or

business needs. Able to train in

computer usage, ergonomics and program utilization. Available as

one-time or multiple-session training.

Brochures

Design and print initial design for your personal or business use. Once

design is approved, multiple copies

can be made on your own copier

or at a bulk printer location.

Database Design

Why store and search for information the old fashioned way? Have a collection that you need to sort or search? Customize a database

for all your needs.Find answers

or print reports instantly.

Consultations

Consult with me about any of the

above--and more. Just ask.

Computer not working right?

Believe you might have a computer virus?

Trying to send a newsletter?

Want somebody to teach you something about your computer, in a gentle way?

Wondering how to keep and access data on your computer or on a CD?

Just say,

"Help me, Debbie!"

If you need something done on a computer, ask if I can do it.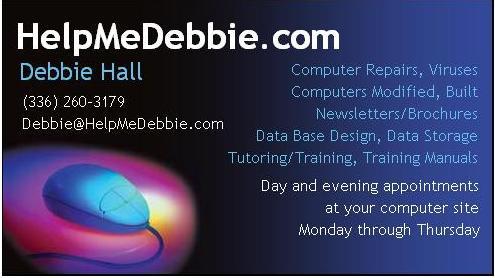 Certified computer professional: CompTIA A+

now: Monday through Saturday

Ask about special weekend service.

Computer Repairs, Viruses

Computers Modified, Built

Brochures

Database Design, Data Storage

Consultations, Tutoring/Training

Day and evening appointments

at your computer site

Monday through Friday

Extra trip charge for weekend service